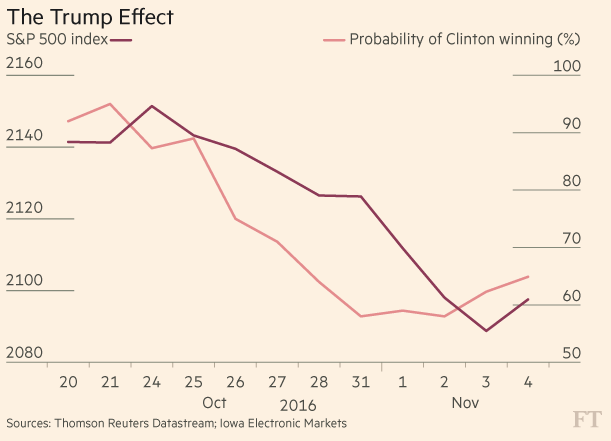 This has pushed the index that measures stock market volatility, referred to on Wall Street as the "fear gauge," to its highest point since right after the UK's Brexit vote rocked financial markets.
And it's not just falling stocks. Investors moved more money into cash-like money market funds
last week
than any week in the last three years.
Beyond public markets, concern about a Trump win is already affecting the fundraising plans of some startups. Companies are raising new capital earlier than they had planned in order to have a cash cushion in case Trump wins, according to a source whose company is currently doing just that, and who is familiar with several other companies' plans.
The source, who asked to remain anonymous because he did not want competitors to know he is raising money, said that his concerns won't evaporate if Clinton wins. Trump's base is so angry and resentful of Clinton that he predicts the possibility of significant economic harm even if Clinton wins because
Republicans may prevent
any Democratic-backed legislation or appointments from passing. That's only anecdotal, of course, but if reflects broader concerns that legislative paralysis and niggling economic harm are built-in costs of a Clinton win.
Full story here