WASHINGTON -- Barely an hour after the news broke Saturday of the death of Supreme Court Justice Antonin Scalia, Senate Majority Leader Mitch McConnell (R-Ky.) made it clear that he has no intention of letting President Barack Obama replace the conservative icon.
"The American people should have a voice in the selection of their next Supreme Court Justice," McConnell said in a statement. "Therefore, this vacancy should not be filled until we have a new President."
Obama said he plans to name a nominee, but McConnell and other Republicans want to punt the issue to the next president because there's a chance that person will be a Republican, in which case the GOP will get a lifetime appointee they actually want. If McConnell plans to spend the next year blocking every potential Supreme Court nominee that Obama puts forward, it would be a major break from tradition -- since 1975, the average number of days from the nomination of a Supreme Court justice to a final Senate vote is 67, per a Congressional Research Service report.
It would also represent a break with McConnell's personal history: In 1988, he voted to confirm a Supreme Court nominee when it was a Republican president's final year in office.
On Feb. 3, 1988, McConnell and literally every other GOP senator voted to confirm Supreme Court Justice Anthony Kennedy. This was during President Ronald Reagan's last year in the White House, and at a time when Democrats controlled the Senate. Kennedy was confirmed 97-0, with three Democrats -- Joe Biden, Al Gore and Paul Simon -- not voting at all because, presumably, they were busy running for president that year.
Sen. Chuck Grassley (R-Iowa), who currently chairs the Judiciary Committee, was among those Saturday arguing that the Senate isn't obligated to confirm Supreme Court picks when it's a president's last year in office.
"The fact of the matter is that it's been standard practice over the last 80 years to not confirm Supreme Court nominees during a presidential election year," the Iowa Republican said in a statement.
But Grassley, too, voted to confirm Kennedy under Reagan.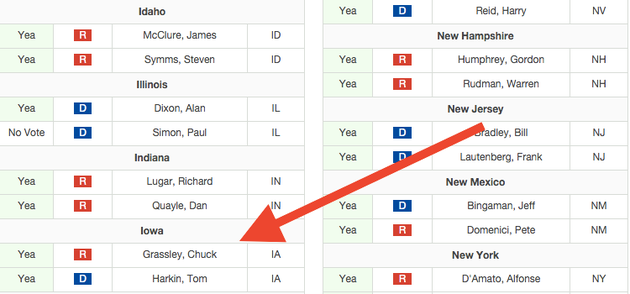 To be fair, before Kennedy, Reagan had put forward two other Supreme Court nominees who went nowhere. The Senate rejected Robert Bork, and Reagan's second nominee, Douglas Ginsburg, withdrew amid a scandal involving weed. The seat on the Supreme Court court had been empty since July 1987, so by the time Kennedy was confirmed, it had been seven months.
The fundamental difference this time is that McConnell is telling Obama he shouldn't bother trying to get anyone through. That might be a first.
http://m.huffpost.com/us/entry/56bfcde2e4b08ffac1259285