The Senate revised a House-passed bill that would have kept Uncle Sam at work until Dec. 15, as long as the upper chamber and President Barack Obama agreed to kill Obamacare. The Senate stripped the health care provision -- by an earlier 54-44 vote -- and changed the end date to Nov. 15. Democrats had insisted they would not negotiate over Obamacare in a continuing resolution to keep the federal government open.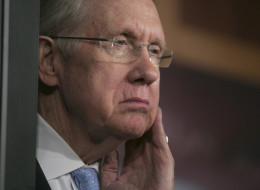 Stalled by tea party-inspired delays, the Senate voted Friday afternoon on a short-term measure to keep the government running with just over three days left before the money runs out.
The Senate bill passed 54 to 44.
Democrats were hoping that the House would then pass the Senate bill as is, ensuring the gears of the nation don't grind to a halt after midnight on Tuesday morning.
But House Republicans showed no signs of doing so, having gone home for the day after voting to name three buildings.
The lower chamber is set to come back in Saturday and Sunday to begin work on the Senate bill. Several House Republicans essentially said they did not stick around to take up the measure immediately because they don't know what to do with it. That uncertainty reflected the growing divide within the party that was so vividly on display with this week's 21-hour talkathon by Sen. Ted Cruz (R-Texas) and several allies, who refused to expedite the legislative process despite the wishes of GOP leaders.
POST