Americans are largely split in their reaction to the "fiscal cliff" agreement, but united in their dislike for the role played by House Speaker John Boehner (R-Ohio), according to a
Washington Post/ABC poll
released Tuesday.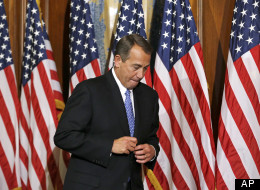 Americans were divided on the fiscal cliff agreement, with 45 percent approving and 38 percent disapproving, although far more strongly disapproved than strongly approved. Democrats were more than twice as likely as Republicans to approve of the deal.
Women, minorities and those with lower incomes were likely to support the deal, while other groups were more divided,
according to ABC
.
President Barack Obama won a majority of support for his handling of the crisis, as 52 percent of Americans approved of his approach, while 37 percent disapproved.
John Boehner, by contrast, saw a 20-point net negative rating, with 31 percent approving and 51 percent disapproving of his handling of the deal.
POST