Heated comments from an Applebee's franchise owner sparked viral outrage against the giant restaurant chain, marking a new phase in the war over Obamacare.
Over the weekend and on Monday, Applebee's employees and customers expressed their anger over comments made on the Fox Business Network last week by Apple-Metro CEO Zane Tankel, who owns 40 Applebee's franchises in the New York metropolitan area. Tankel said he would not hire any more workers and was considering cutting the hours of current employees because of the Affordable Care Act, aka Obamacare.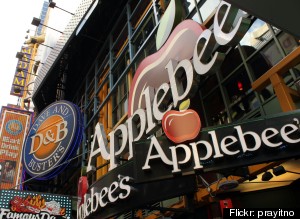 Already Applebee's parent company, DineEquity, is distancing itself from Tankel's remarks. "It's certainly our hope that our guests recognize and realize that Mr. Tankel's views are not representative of the broader Applebee's brand," said Dan Smith, a spokesman for DineEquity. Smith said the company has received a torrent of customer feedback on Tankel's comments and noted that individual franchise owners do not speak for all of Applebee's.
Tankel, who declined repeated requests for comment through a spokesman, is just one of several CEOs who've announced they will take drastic measures to deal with Obamacare. Last week,
Papa John's CEO, John Schnatter
, said he'd likely reduce workers' hours as a result of President Barack Obama's reelection. In October, Jimmy John Liautaud, founder and CEO of
Jimmy John's sandwich shops, said
he would cut employees' work weeks -- "bring them down to 28 hours" -- in order to skirt Obamacare requirements on providing health insurance for full-time-equivalent employees. Liautaud was a prominent Mitt Romney supporter.
These outspoken businessmen may find such political comments hurt their bottom lines. Some employees seem eager to find new jobs.
And customers are threatening boycotts -- on Twitter and Facebook.
POST