With less than a week remaining before
results are counted
, the presidential race remains remarkably close, with President Barack Obama maintaining a very narrow lead in most polls over Republican nominee Mitt Romney in Ohio, the state whose outcome could well decide the election.
A new Ohio poll released on Wednesday morning by
CBS News
, The
New York Times
and
The Quinnipiac University Polling Institute
showed Obama maintaining a 5 percentage point advantage over Romney in Ohio, the same margin as on a previous CBS/Quinnipiac survey conducted in the state
two weeks ago
.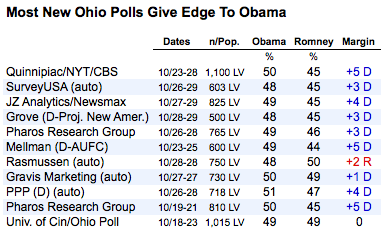 The Quinnipiac survey was among the more favorable for Obama in Ohio this week, with 8 of 11 new surveys giving the president nominal advantages of between 1 and 5 percentage points, one showing a tie and one giving Romney a slight edge.
The CBS/Times/Quinnipiac polls have typically been among the more positive for Obama in Ohio and other states, but the comparison to their previous Ohio polls shows the same flat-line trend as other surveys have shown in recent weeks. Romney narrowed the race significantly following the first presidential debate but has not gained ground since.
The HuffPost Pollster
tracking model
merges all of the statewide and national polls into combined estimates of the polling snapshot in Ohio and other states. The model's most recent run completed just before the new Quinnipiac survey was released shows Obama holding a lead in Ohio of just over 2 percentage points (48.4 to 46.1 percent).
FULL POST