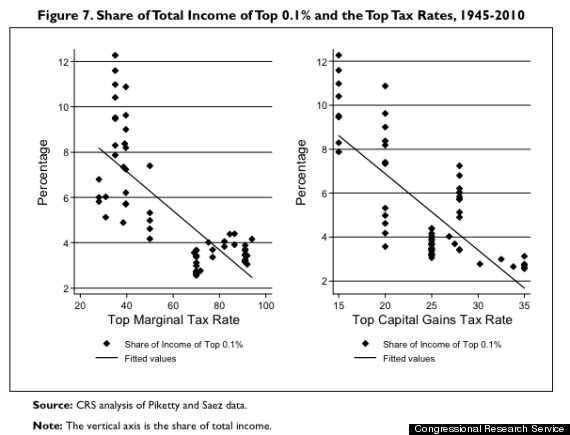 A new study by the nonpartisan Congressional Research Service has found that over the past 65 years,
tax cuts for the rich have not led to economic growth
and instead are linked to greater income inequality in the United States.
The study found that
cutting taxes for the rich does not increase saving, investment, or productivity growth
. "The top tax rates appear to have little or no relation to the size of the economic pie," the study said.
Two graphs show the lack of connection between tax rates for the rich and economic growth: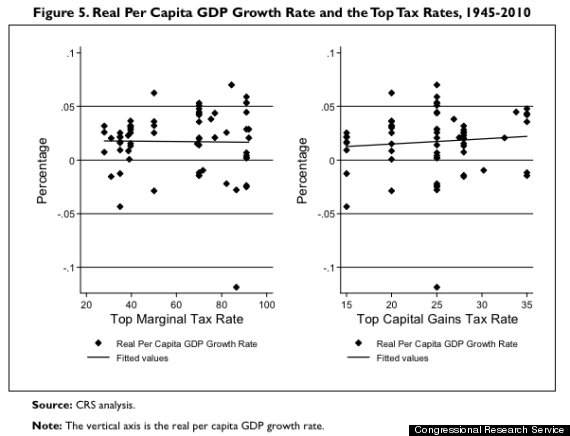 The authors noted that top-tier tax rates could have an effect on "how the economic pie is sliced."
The study noted
that in 1945, when the richest families had to pay a marginal tax rate of more than 90 percent, the top 0.1 percent of U.S. families accumulated 4.2 percent of all income gains. In 2007, in contrast, when the top marginal tax rate was 35 percent (which it still is), the top 0.1 percent of U.S. families captured 12.3 percent of all income gains.
Two graphs from the study show a clear connection between higher taxes for the rich and less income inequality:
Full Post