Michelle Obama was the overwhelming star of Tuesday night's Democratic National Convention, delivering a powerful personal narrative about her husband still being the same deeply principled man she fell in love with 23 years ago when they were both broke and watching their families struggle.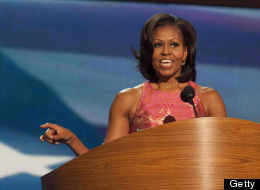 Obama's speech contrasted with barnburners from the rest of the night, which attacked GOP presidential nominee Mitt Romney on everything from his Swiss bank accounts to flip-flopping on abortion. But the first lady's remarks also touched on the message that others, including the keynote speaker, San Antonio Mayor Julian Castro, made earlier: Struggle and success aren't just Republican ideals, and there's nothing un-American about getting help.
Obama's speech, like Ann Romney's at the Republican National Convention last week, focused on her relationship with a candidate that she knows as a husband and a father. But while Romney's talk of saving money by eating tuna and pasta fell flat, Obama's stories of student loan debt and family hardships made for a more convincing case that they can relate to middle-class struggles.
Full Post