Joe Biden stepped forward Thursday as Barack Obama's chief character witness, link to middle class voters and potentially the most biting critic of Republican rival Mitt Romney.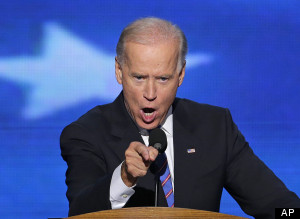 Speaking candidly about his front-row seat to Obama's presidency, Biden used his speech to Democrats' convention to paint his friend as a gutsy leader who helped the nation turn the corner on its dour economy.
He pointed to the decisions to bail out Detroit's auto industry and to dispatch Navy SEALs into Pakistan for a fatal raid on al-Qaeda leader Osama bin Laden's compound.
"Conviction. Resolve. Barack Obama," Biden shouted to delegates watching in the convention hall and millions more watching at home.
Biden, the sometimes off-script but always fiery vice president, praised Obama's hardest decisions. He deviated from his prepared remarks at times to include some of his signature rhetorical flourishes but stayed focused on the arguments Obama needs him to make to white, working-class voters.
"This man has courage in his soul, compassion in his heart and steel in his spine," Biden said, drawing the crowd to its feet. "And because of all the actions he took, because of the calls he made, because of the grit and determination of American workers, and the unparalleled bravery of our special forces we can now proudly say what you've heard me say the last six months: Osama Bin Laden is dead, and General Motors is alive."
Full Post