NEW YORK (CNN) -- Bonuses for Wall Street fat cats are easy political fodder in uncertain economic times, but former New York Mayor Rudy Giuliani said Friday cutting corporate bonuses means slashing jobs in the Big Apple.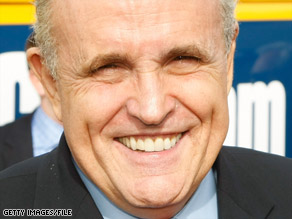 Rudy Giuliani says that when he was mayor, he gauged the New York City budget by Wall Street bonuses.
"If you somehow take that bonus out of the economy, it really will create unemployment," he said on CNN's "American Morning." "It means less spending in restaurants, less spending in department stores, so everything has an impact."
President Obama admonished corporate America on Thursday after the New York comptroller reported that Wall Street bankers received $18.4 billion in bonuses in 2008.
"This is the height of irresponsibility. It is shameful," the president said.
When
Giuliani
ran for the GOP presidential nomination, pundits said his stances on issues like abortion rights separated him from self-proclaimed Reagan Republicans in the field. Not up for debate is Giuliani's alignment with the 40th president on "trickle-down economics," the theory that keeping the rich wealthy creates jobs and solvency for the lower classes.